News
08/01/2023
JLAM Profile Piece in Delaware Business Times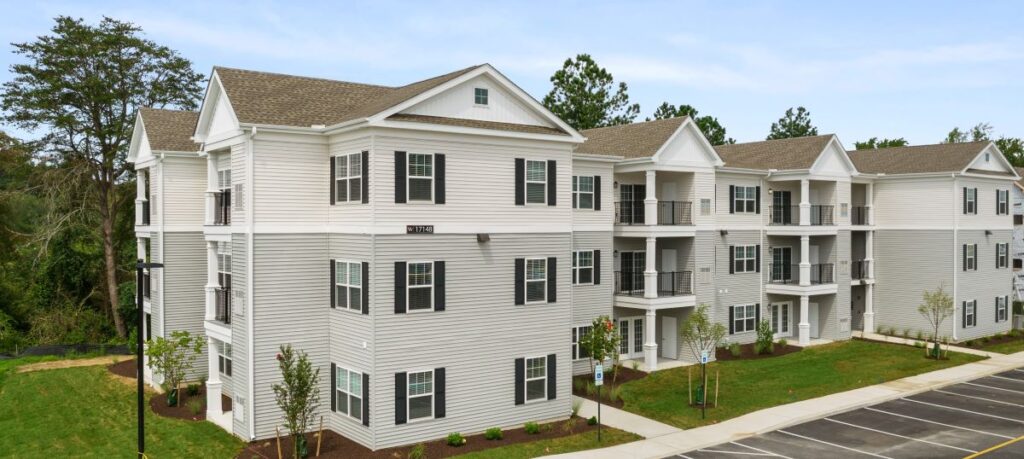 Original Source
REHOBOTH BEACH —  Jack Lingo Asset Management (JLAM) has quietly been connecting investors to real estate assets in southern Delaware for a decade, but in the last five years the firm has turned its attention to rental and commercial assets.
Since the firm's launch, JLAM's portfolio has more than $397 million equity invested in the First State. That includes $180 million capital invested in multi-family projects in Kent and Sussex counties, with a combined 843 units slated.
One of those projects includes the forthcoming Wickersham development, with 203 apartments and townhomes off Route 1 slated to come online this year.
"We realized that in the coastal markets the average single-family home costs $400,000, and a lot of people in the service industries or just a single-income working man or woman can't afford that," JLAM Managing Principal Doug Motley said. "Delaware is an importer of people, and the population growth is mainly in the retiree area. But that also opens the opportunity to look outside of Lewes and see where we can create a place someone will be proud to call home."
Jack Lingo Asset Management is the real estate investment arm of Jack Lingo Realtor Inc., a well-known name in Rehoboth Beach property investment and management. The firm has Bill and Bryce Lingo on the board of directors, along with longtime broker Shaun Tull.
Motley and Nick Hammonds, another managing partner, handle the day-to-day activities of the firm. Motley handles acquisitions and underwriting investments while Hammonds manages projects and asset management activities.
The JLAM investment philosophy is simple: creating places where people want to be, whether that's living and working.
Dating back to 2012, the firm had focused on single residences for sale in Delaware aside from Landings at Bayside in Ocean City, Md. Throughout the decade, that puts roughly 2,100 homes at $217 capital invested.
"When you pull the thread on that philosophy, we've found there's tailwinds in the demographics in the [Mid-Atlantic] market that were favorable. The population growth, employment growth and business labor ability make them a solid long-term investment," Motley said.
But come 2018, JLAM noticed an underserved market that it could break into: multi-family and for rent options. Motley, who also serves on the Delaware State Council on Housing, an advisory board, said the opportunity was right to invest in what was the first multi-family project in JLAM's portfolio. Georgetown Oaks was mothballed by another investor and not marketed strongly.
When JLAM studied the project, it realized that not only were home prices unaffordable to average workers in Delaware, but no new rental supply was added in the last twenty years. The firm decided to offer features like 9-foot ceilings, granite countertops and communal outdoor space to upgrade the living experience.
Furthermore, JLAM was able to return 40% of investor capital after the project was complete by keeping leverage low during construction and converting debt to a low fixed-rate permanent financing.
"We really saw an opportunity there to not only have a great outcome for people who live there, but our investors. What we try to do is find different segments of the market that are underserved and provide a best-in-class product they can buy. That was really the impetus behind our apartment development division," he said.
After Georgetown Oaks opened for lease in 2020, it was followed by Windward on the River in Milford, Sunset Village in Camden and Wickersham in Milford. Wickersham is slated to start construction this year not far from the Bayhealth Sussex Campus.
JLAM plans on continuing its residential side of business, but has also started investing in commercial properties as well, mostly out of the Delmarva region. Only one project – the Dover Logistics Center– is in Delaware, and the rest are in North and South Carolina. Motley said the firm plans to continue growing in Delaware, a state where small developers thrive because of scale and a close drive time for 50 million people who live in Philadelphia, Baltimore, and Washington, D.C.
"We're really not on the radar of big developers because there's not enough demographics and the scale of the project isn't large enough. That's a competitive advantage to well-capitalized operators in Delaware," he said. "But on the flip side, the time it takes in entitlement and permitting can be very long. It's a factor in our analysis for sure."
While Motley and JLAM can say little about what project is next in the pipeline, the firm did confirm a new Lewes project: Village Center on Kings Highway. Right across Cape Henlopen High School, JLAM is working on a retail center with a focus on green space.
"We want a really activated experience for customers, and we haven't seen a project like that around here. We're really excited to start construction next year," Motley said.